Dentist Smestad
Welcome to Tann-klinikken.no!
We run a small personal, patient-orientated clinic where individual needs and requests for treatment are emphasised and discussed with the patient. We operate a recall system accorded individually.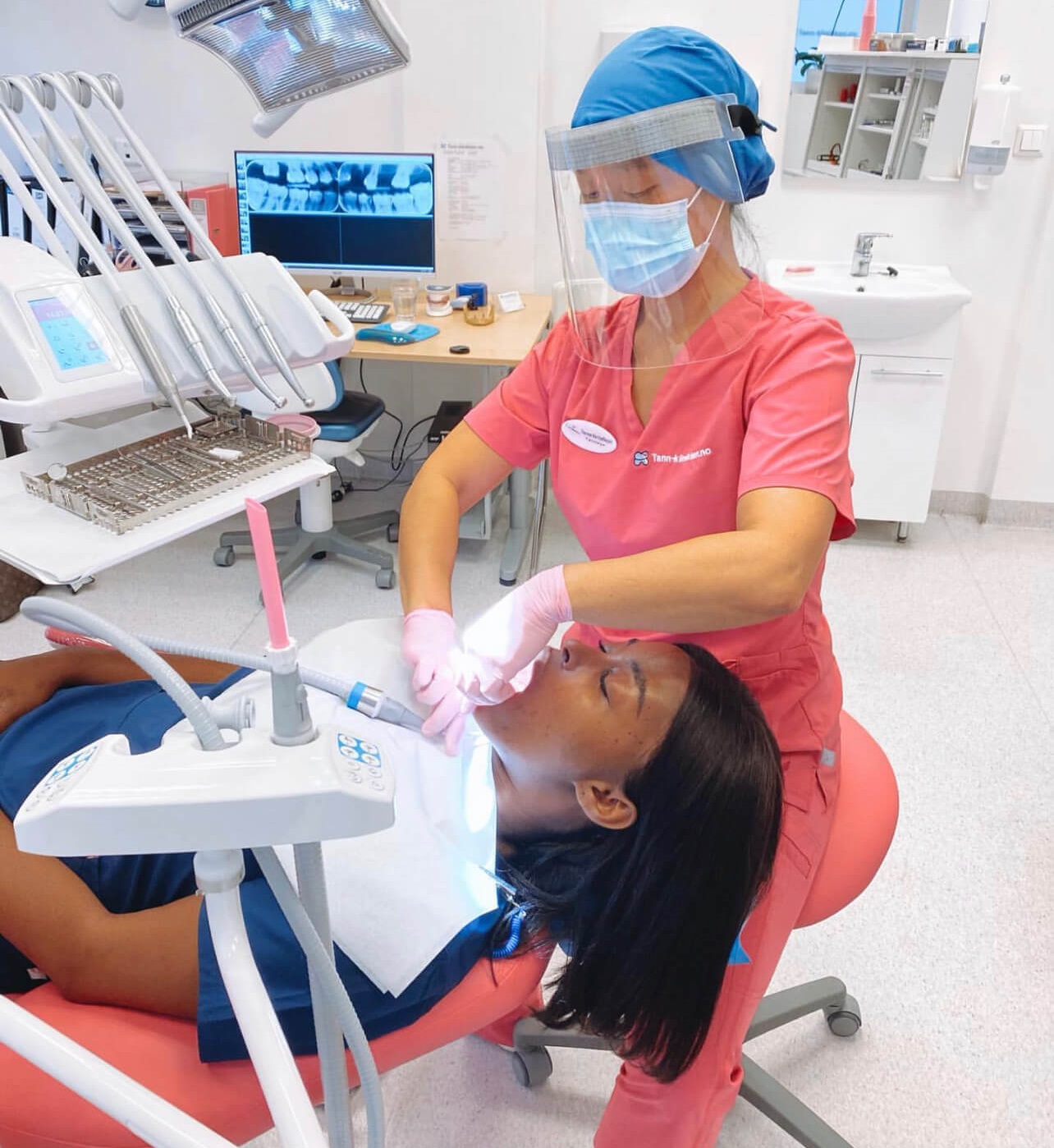 "Fast and efficient dental treatment. One of the few places that have the equipment to produce crowns on site. Incredibly efficient, everything is made ready, 15 minutes break, and crown is finished and can be mounted. Avoids temporary crown which in some cases falls off in the meantime. This dental clinic is highly recommended. In addition, centrally located right next to the subway."
Øyvind Halnes
"Incredibly nice, professional, confident, empathetic, and good dentists and dental hygienists! You always feel welcome and well taken care of. The treatments are always thoroughly and effectively performed. The clinic is spotlessly clean, in fresh colors, and with the very latest in technology. I'm always happy. "
Kathryn nordby
"Fantastic good service by cheerful and skilled staff. I feel taken care of and safe. "
Helle Mostad
"My dentist's "fear" is cured. Professional and pleasant visits every single time. Here you feel taken care of so that dental health becomes an investment for life."
Marius Otterstad
"A good and nice dentist who always has good tips in stock. Very good at follow-up, best dentist I have had. "
Vera Tormodsrud
"Highly recommended dental practice. High competence and not least a pleasant and relaxing atmosphere. Always a warm welcome! It is the whole patient and not just the teeth that are treated – very important if you are a little anxious. "
Ninian Millar
Implant
Replacement of missing teeth. If one or more teeth are lost, they can usually be replaced in the form of an implant.
Cerec
Cerec are ceramic fillings and crowns that are computer-generated directly at the clinic.
Invisalign Go
Invisalign Go is an orthodontic device with transparent plastic braces. Do you have a desire for straight teeth?
Teeth whitening
Teeth whitening with bleaching braces gives a permanent result over a longer period of time. Teeth should be examined by a dentist or dental hygienist before whitening.
Are you tired of discolored teeth? We offer Air-Flow treatment, which is a very effective and painless way to remove coatings and discolorations. The teeth are salt-blown with water and sodium bicarbonate.
Dental clinic
Sørkedalsveien 90B, 0377 Oslo
We are located right on the subway at Smestad, situated under the Smestad doctors. The address is Sørkedalsveien 90B.
NB! Access via communal entrance with Sørkedalsveien 90A where it also is a public dental clinic on the left (Oslo kommmune). To reach us you have to go down the stairs to the right, or take the elevator down one floor.
We share a waiting room with jaw orthopedic Magnhild Lerstøl (www.reguleringstannlegen.no).
Public transportation:
Nearest metro stop are Smestad. Line No. 2 towards Østerås or No. 3 towards Kolsås.
By car:
Use the map below or click here to open it in Google maps.